...SATURDAY JANUARY 1ST 1977

In 1976 Punk Rock was rejected by the music
industry, the media and established venues
for it's unsavory behaviour mainly thanks to
the
Sex Pistols
appearance on the Bill
Grundy show the previous month. So when a
small dingy Covent Garden club formerly
known as Chagurama (a gay club) was open
for hire on December 14th,
Generation X
and

Siouxsie And The Banshees
were choice
cuts to do the honours. The healthy demand
for punk was obvious to all including Andy
Czezowski who had a brief stint managing
the
Damned
before throwing his weight behind

Chelsea.
Andy with a chunk of insight and
borrowed cash launched the official opening
tonight on the
1st January 1977
. The Roxy
Club, London WC2, opened it's doors
exclusively for Punk Rock and became the
focal point of this new phenomenon for at least
a 100 nights. In it's short existence the club
featured every available UK punk band with

the Clash
headlining the opening night along
with support coming from from Mr Czezowski
boys
Chelsea
.

Strummer
with his white stenciled shirt emblazoned
with '1977' is seen here in
WC2's Roxy
on the opening
night, throwing some Knives in the direction of West 11.

Sniffin Glue # 6

hits the streets this
month featuring the

Sex Pistols, Eater,
Generation X
and

Chelsea
.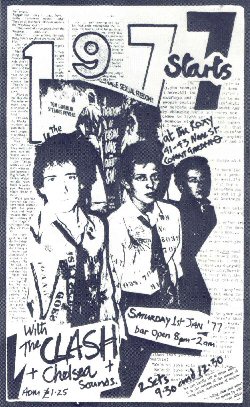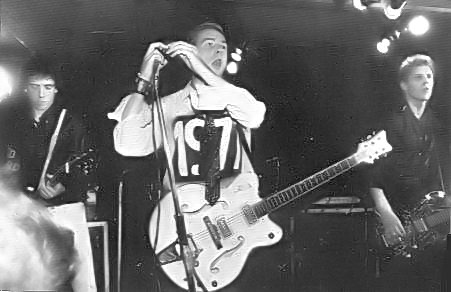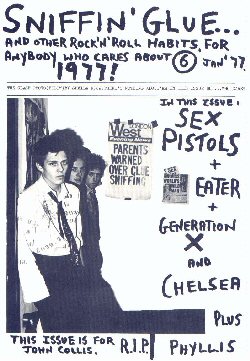 The Pop
Berlin Brats
Zolar X
KROQ Cabaret,
Los Angeles USA
$3.00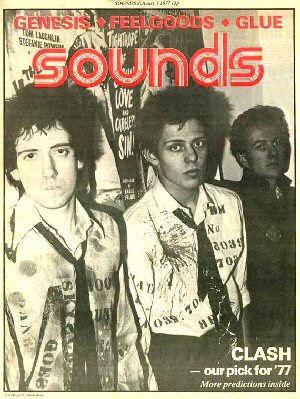 Meanwhile British
music weekly

Sounds
sets their
stall out for
the
Clash
as this years
next big thing.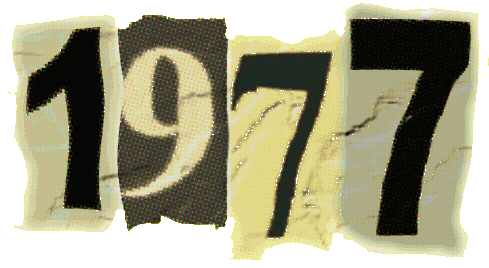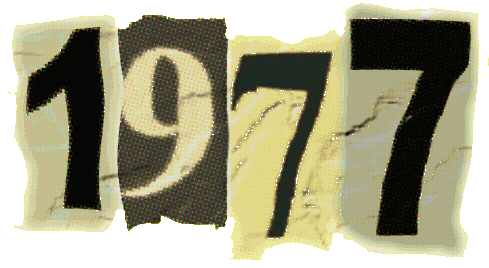 Pay the first of 2 appearances at
the
Hope And Anchor, London
.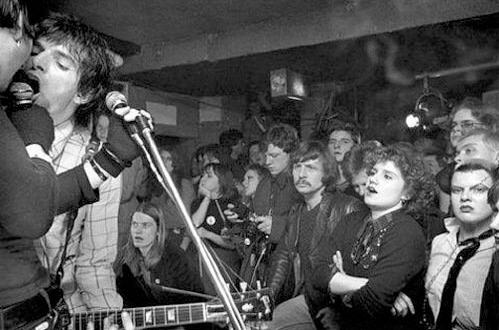 JOHN CALE


My Father's Place, Roslyn, NY


Inspired by the burgeoning new music
scene at the Mercer Arts Center,
Chris
Stein
joined
The Stilettos
in 1973 as
their guitarist and formed a romantic
relationship with one of the band's
vocalists,
Deborah Harry
, a former
waitress and Playboy Bunny. In 1974,
Stein parted ways with
The Stilettos
.
Stein and Harry formed a new band with drummer Billy O'Connor and bassist Fred Smith. By 1975, after
some personnel turnover Stein and Harry were joined by drummer Clem Burke, keyboard player Jimmy
Destri and bass player Gary Valentine. Originally billed as
Angel and the Snakes
, they renamed
themselves
Blondie
in late 1975. The name derived from comments made by truck drivers who catcalled

"Hey, Blondie"
to Harry as they drove by.
Blondie
became regulars at
Max's Kansas City
and
CBGB
. Their
debut album Blondie (UK No. 75, AUS No. 14) was issued in December 1976.

"We really formed
The Dogs
around 1969 in Lansing Michigan, it was Art
Phelps on drums, and myself on guitar. We were just high school kidz. Mark
Kay was the last to join up with us on bass. It took a while for us to get a grip
on putting the band together but we were influnced by the
MC-5
and
the
Stooges
, Amboy Dukes, Alice Cooper - the cool Detroit bands. It was all
about playing with Marshall stacks real real loud. Art quit in 1970 and Ron
Wood joined the band - he was a real trouble maker, kinda of a Scott Ashton
kinda of thug - great for the band.
Well, we really moved to NYC first in June of 1973 and lived in the lower east
side of new york. We were playing gigs with
the Dictators
and
Television

and Kiss, The Fast, at places like Max's Kansas City, The Coventry and the
Club 82 and the Electric Circus. It was a great experience to be in NYC in
those days, the
New York Dolls
had just been signed so it was pretty rocking,
but I think we had our hearts on going to Hollywood. It was very hard to
survive in NY very expensive we did not work day jobs. LA seemed to be the
place to go."

-
Loren Molinaire
(
The Dogs
)