...TUESDAY JANUARY 18TH 1977

hit
Birmingham Barbarellas
tonight

The Vibrators
have no gimmicks
apart from pink plastic sunglasess,
they rely totally on their ability to play
their instruments. In their live show
they prove to be electric, even
though they only wear leather jackets
and jeans, although singer Knox has
been known to wear zippy t-shirts
and lurex trousers on occasion. They
have a big
Stooges
influence and
are not particularly interested in
politics. They claim unlike their
younger punk peers to not have
nothing to say whatsoever.

The Roxy, London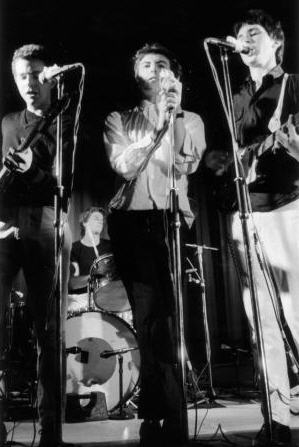 Subway Sect
make their Roxy
debut tonight. They were
among the performers at the

100 Club Punk Festival
on
Monday, 21 September 1976 -
sharing the bill with
Siouxsie
And The Banshees, The
Clash
and the
Sex Pistols
.
The first line-up of Godard on
vocals, Paul Packham on
drums, Paul Myers on bass
and Rob Symmons on guitar.
They are managed by Bernie
Rhodes, who also managed

The Clash
.