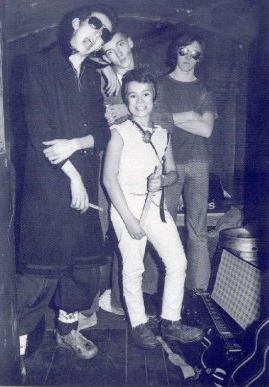 ....MONDAY JANUARY 3RD 1977

WIRE

are 6 months old and playing experimental punk.They've been rehearsing and writing in
Stockwell, South London and playing sporadic abortive gigs. Mounting internal tension led
to founder member and guitarist George McGill leaving the band coz of his more anarchic
unstable approach, he later goes off to form
The Bears
in Watford.
Wire
carry on as a
four piece writing newer material and will be making their new line-up live debut and
recording debut in one foul swoop over two nights at the Roxy in the coming months.

These New York exports only come over for
the abortive 'Anarchy' tour but looks like
they're here for the duration. They continue to
play or is it pay for their habits with gigs
wherever and whenever around the capital.
Tonight they play
Dingwalls, London
. An old
venue with even older clientele.

TALKING HEADS:

New York 3-piece
Talking Heads
embark on a
mini tour of the North-East US (and play in Toronto,
Canada), with keyboard player Jerry Harrison
joining for dates in Boston and Providence Rhode Island.

"Much as love New York and it's my
home, England's really where it's
happening now musically"

-
Walter Lure

Meanwhile Schoolboy punks

Eater
consisting of
Andy
Blade, Brian Chevette, Dee
Generate, Ian Woodcock
are
the only real band in the punk
scene entitled to officially wear a
school tie, play
London's
Rochester Castle pub
in

Stoke Newington
tonight. Bet
the teachers don't know?