The Secret Life of a Teenage Punk Rocker:
The Andy Blade Chronicles

BY ANDY BLADE

Cherry Red Books
ISBN 1-901447-50-3 12.99


Brilliantly cutting, idiosyncratic punk autobiography from former
child-star.

With a foreword by Henry Rollins, a cover endorsement by
Jonathan Ross, and great, previously unseen photos, this is
arguably the very best inside account of Punk Rock in London
1976, '77, and far from being just the story of school-kid punk band

Eater
. 'The Sid and John Stories are worth the price of admission
alone', says Henry, and if you want to know which member of
the
Clash
had the biggest dick, then you'll find out from these
hilariously, frank chronicles. Of all the books on punk, this is
destined to be the peoples favourite, as it is the most intimate,
personal, cutting and basically the most honest. It's how one
person saw it, felt it, and lived it. The fact he was a naieve 15 year
old at the time helps immensely as the whirlwind journey of
discovery is recalled with amazing clarity. He can spin a yarn too
and he doesn't hold back on all the gory details. Being on the
receiving end of a washing up liquid bottle full of piss being used a
water pistol, by a
Sex Pistol
after being caught in bed with said

Pistols
girlfriend is a particular highlight.

There's a lot more to this book though. It is about being an outsider
as a child in the 70's, Blades parents divorce resulted in
school-phobia and he withdrew into the fantasy world of pop music.
His 'secret life' was as much about being a fan initially as it was
being a performer, see the segment on how he stalked
the
Runaways
, issuing fake bomb threats to the hotel they were
staying in, hoping they would emerge, semi-clad or otherwise.
You really get inside Blades head reading this intense, dramatic
yet funny book and get to understand how shy school kid Ashruf Radwan transmogrified into teenage 'low-rent rock star'
Andy Blade, and, having burnt out before his 18th birthday descended into his 'drug hell' and made it through the other
side.

Instead of chronological history, boring statistics, exact dates and details of recording sessions, socio-political theory or
analysis you get stories of encounters with a bizarre cast of supporting characters; an armed and dangerous Spike
Milligan, a surly Bob Dylan, a polite
Lou Reed
, a shambling Muhammad Ali, a self-righteous Cat Stevens, a confused
Bay City Roller, a self-important Mickie Most and needless to say Rotten, Strummer, Scabies, Weller et al. On top of that
you get a true ghost story, sections on Islam (his brothers became converts), a cold turkey travelogue (Egypt & Israel
where he went to get cleaned-up), and a guide to how transcendental meditation can help you win on the horses.

If I had to pick one thing about this book that will leave a lasting impact then it's the fact that at last we discover the
true significance and importance the blowjob in punk history.

Sack the proofreader but a fantastic read and a must-have for anyone interested in punk.


GED BABEY

You can read some hilarious extracts
here



And for an accompanying peer into the mind of Andy Blade read
this short but concise question and answer session conducted by
Ged Babey.


ANDY BLADE Q & A


How does it feel now your 'secret
life' has been made public?

I feel relieved. I've wanted to write
this book for a long time, but I soooo
didn't want it to sound like one of
those 'I was there, you weren't, I'm
important' type tomes that seem to
come out every year. I'm proud of it,
it makes me laugh and as I say in the
book, I've never been any good at
keeping secrets.


A lot of the original punks
seemed to come from 'broken
homes'.

I must admit, most of the people I
hung with had dysfunctional family
backgrounds. Besides Dee
Generate, the majority of drummers
from the scene came from stable
family units. I'm sure there's a
dreary sociology thesis just waiting
to be written there!


Are you expecting a few less Christmas cards this year, or writs for slander?

We've had a libel lawyer check it over. She advised me to only send out Xmas cards as I receive them! I haven't
slandered anyone; I've just reported events. Is it slandering Fred West, for example, to say he buried girls bodies
underneath his patio? I'm not ashamed of or embarrassed by the stupid stuff I got up to and I don't see why anybody else
should be. Most of the stories in the book happened a long time ago and at the end of the day, I don't believe it's healthy
to edit your life for public consumption, anyway. I realise though, most people do. It's a form of retardation. I don't want to
receive Xmas cards from people who can't be honest about themselves.


The section on Islam, Punk Rock Hymns is very striking in the light of the attacks on London.

Yep. The Sunday Times wanted to run that section of the book, but they wanted me to make it less piss-taking. I felt they
were missing the point somewhat! I know of British Muslims who got sucked into the terrorist chic-ideology thing, long
before the onslaught of suicide bombers. I even thought it might be quite cool to hijack a plane at one point in my life,
y'know, no violence, pretty female assistants, making your point over the intercom, whilst sharing the airline champagne
with cheering passengers.


I hear that you're a fan of Luke Haines? In fact Treasure Here (Blades new
album out now on Cherry Red) could be mistaken for a 'lost' Auteurs album.

I don't think I sound like him/them but I was, and still am, mental about his Baader
Meinhof album. The best album of the 90's, without doubt. I'd be playing that over
the hijacked plane's stereo whilst cavorting with my assistants. I met Luke once at a
Peter Perrett gig in 1994. I said - 'do you like Peter then?' he said 'Genius!'. A
couple of years later my mate Ben spoke to him at a Black Box Recorder show and
asked the same question, he said 'Nah! I'm not into all that Rock'n'Roll loser thing.'
I like people that are unafraid to contradict themselves.


How do you intend celebrating the 30th Anniversary of punk rock next year?

Circling the skies, in a hijacked aircraft, drinking champagne with my female
assistants whilst listening to Baader Meinhof on the plane's sound system.

(
Ged Babey
)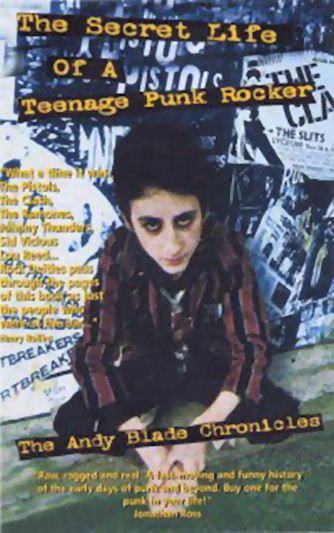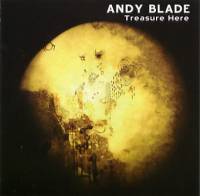 HATE RATES....
***** BIBLE **** TABLOID *** COMIC ** CHIP PAPER * PULP