Vacant

'A Diary Of The Punk Years 1976-79'

By Nils & Ray Stevenson 1999.

More photo journalism by Ray Sevenson. The geezer who was responsible for the
impressive 'Sex Pistols File' way back in 1978. Only this time he's accompanied by his
kid brother Nils. Nils was the Pistols road manager, heroin user, Siouxsie letcher,
Banshees manager and all round scenester.
It's a great insight done in diary form into the incestious London punk scene from the
years it exploded onto the music map. There's some great honest and often
embaressing insights into the punk myth and most are accomp
a
nied by a load of rarely
scene pictures of the culprits in action. God only knows what the sections had in em
that the authors deemed fit to leave out for fear of libel or the sake of peoples
reputation and honour? Vacant gives you an all round feel of the original London punk
scene at the time, with the added bonus of over 20 other key figures, hookers,
characters and pimps views
including... Gave Advert, Jordan, Don Letts, Paul Simonen,
Viv Albertine, Walter Lure, Mark P. and Helen of Troy. I
wonder if todays punk scene will ever be captured like this? Oh silly me I forgot it's a worldwide international scene
these days and everyone's too clued up, caring and PC to be involved in such debauchery as sex and drugs....or
are they? I'm sure someone has the dirt somewhere? so come on get to it!
PETER DON'T CARE
****1/2
£9.95
ISBN 0-500-28103-3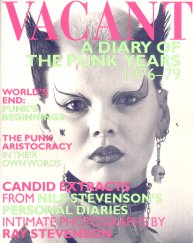 HATE RATES....
***** BIBLE **** TABLOID *** COMIC ** CHIP PAPER * PULP