Joan Jett

Punk Icon

Joan Jett and the Blackhearts support Green Day on their stadium dates in
June 2010. The Runaways movie hits cinemas in the UK on June 14th the
same day as Jett plays a warm-up gig at the legendary 100 Club in London
The Runaways Mercury Albums Anthology CD/DL set is out, as is a Joan Jett
and the Black Hearts Greatest Hits CD/DL and then there's a lavish
biography photo book etitled Joan Jett by Todd Oldham also available. Time
then to re-assess her contribution to Punk Rock'n'Roll history.


Ged Babey (Punk Throwback/ Record Collector contributor) does just that whilst trying to decide how
much he's willing to pay on E-bay for a ticket to the 100 Club gig.


"I don't give a damn about my reputation.
Never said I wanted to improve my station."

Bad Reputation Joan Jett 1980

label, yet dabbles in movies, fashion and 'entertains the troops'. She's an original for sure and a leather-clad, rockin' Icon – but
maybe not a Punk Icon?

"I'm happy on the road, making records, and playing clubs. I don't want people all
over the place and hanging outside my door. I'm not in this to become a millionaire.
I'm in it because I love the music, and I love to sweat while up there on stage playing
rock and roll. It's really that simple."

I have no idea where, or more importantly when that quote comes from. It could be
1977, 1987, 1997 or 2010 but it just doesn't matter. That's Joan Jett.

The press and New York peers such as a particularly nasty Patti Smith hated and
derided them seeing only the 'jailbait' image pushed by Kim Fowley. Releasing only
three albums as a five piece, the Runaways, Queens of Noise and Live In Japan the
band were big in Japan, but had only a cult following in Europe and the States, never
achieving their full potential and leaving behind a recorded legacy of 'building – block'
rock – songs full of juicy cliches about being young and female and in a rock band.
Cherry Bomb being the enduring one they're remembered for. After blonde bomshell
Cherrie Currie left, guitarist Joan Jett took over centre stage and the final proper
Runaways album Waitin' For the Night was released in 1977. (the two odds-and-sods
posthumous albums And Now…the Runaways and Flaming Schoolgirls are best
avoided unless you're a completist). The Runaways story is now a movie – quite
possibly a far better bet than a tense reformation tour; Sandy West is dead, Jackie Fox a music biz lawyer with no time for Jett, Lita
Ford, happily married with kids, semi-retired with a Osbournes-type reality TV show in production, so it wouldn't have happened.

My boyhood fan-relationship with Joan and the Runaways began in 1977 – the first
album I bought as a teenager with my own hard-earned money was the Phonogram
New Wave compilation (bright red sleeve – featuring the Damned and Boomtown Rats
debut singles and two tracks each by Dead Boys, Ramones, New York Dolls,and the
Runaways – Cherry Bomb and Hollywood). That album was a great introduction to Proto-
punk from the USA and has coloured my taste ever since. Sonic Reducer and Personality
Crisis will always send a shiver down my spine in a way that anything by the Clash never
will. The British bands that secretly yearned to be American; Eater and the Lurkers, will
always sound better to me than the more English bands.

My next encouter with the Runaways came via the BBC's Old Grey Whistle Test which if
you remember featured very few punk-related acts early on due to the presence of
Whisperin' Bob –Punks nemesis. The Runaways were on though to promote their final
Waitin' For the Night album. Cherie had gone, Joan was upfront on vocals and they
played two of the albums best songs
Wasted
and School Days and looked and sounded
phenomenal – not exactly punk rock and not quite Heavy Metal but somewhere between
the two. They played it straight – no corsets or cleavage or flesh on display just jeans
t-shirt and leather, although Lita Ford did admittedly have a black spandex catsuit. It was Joan who shone out – looking tough and
sexy, without even trying. The perfect punk rock/biker chick girl. More exotic and sexy than even Gaye Advert due to her all-American
Rebel appeal. She was a female James Dean with a guitar.

I wasn't alone in my teenage admiration for Jett, in
London during their first visit to the UK, a bunch of
urchin teens hatched a plot to meet the band once
they found which hotel they were staying at. They
phoned in a fake bomb threat in a terrible Irish
accent – hoping the band would emerge, possibly
semi-clad – at the sound of the fire alarm. It didn't
work and Andy Blade and his mates soon to become
Eater skulked away tails between their legs (the
story is in Blades 'Teenage Punk Rocker' biography).

After the Runaways split Joan Jett hung out with the
Sex Pistols and gained herself the "Bad Reputation"
which meant her demo's were turned down by
twenty-three record companies! In an interview with
Henry Rollins (on You-Tube) she puts the Pistols
association being a large part of the problem with
her being untouchable. Revenge was sweet when
she formed her own Black Heart label with business
partner Kenny Laguna and I Love Rock'n'Roll
became a worldwide hit and made her a household
name …or rather a bar-room name as the song
must've been on every jukebox in every bar in the
world at some point. It is the definitive Jukebox Metal Anthem like Black Betty, Born To Be Wild and Alright Now. The album of the
same name was a loose, old-fashioned rock'n'roll album, a mix of covers and originals – touches of glam and 50's R'n'R and a touch
of punk-itude.; The way she sings " po-lice" on the Thunders homage Victim of Circumstance…. The King Rocker-ish Be Straight.

The eight or so albums Joan Jett & the Black Hearts released from Bad Reputation to Fetish are to be honest not without their
pedestrian moments and a few ill-advised cover versions ( Woolly Bully, Lulu's Shout… Pretty Vacant) as Ira Robbins, in a
particularly vicious and insulting Trouser Press piece says, she has "Always (been) a contradiction of commercial accommodation
and left-of-the-dial aspiration ". Her early albums are chock full of cover versions. Bad Reputation only had four Jett co-compositions
out of twelve songs. Even her seventh album, the Hit List (1990) was all covers. Only her most abysmal album the 'mature' FM rock
Notorious contained no cover versions. Rather than being a weakness I see Jetts penchant for other peoples songs being a
remarkable strength. It shows a complete lack of ego (as a songwriter) and a total love and commitment to playing 'Good Music' as
she entitled one album. After all the writers would get the royalties., not Joanie. I just think she just genuinely loves rock'n'roll.

I've yet to see Todd Oldhams photo-heavy biography of Jett but this
extract from a review says a lot about the book and indeed the artist


Oldham's portrait paints Jett as a true creative force. Jett, as this
volume tells it, is an inspiration not necessarily because of her
music. Instead, she is her music—she fosters an intimate
relationship with her fans and refuses to let the industry push her
around. The, oft-copied, iconic look she's so well known for is her
very own, and she's self-made, self-taught, and self-assured. As
rock stars go, Jett is as real as it gets.


I've yet to see the Runaways movie too but by all accounts its gonna
be great. Notice the 'based on' in the titles though - it aint a
documentary it's a dramatic version of events , but how can it fail to
be anything but magnificent? Here's what JJ said to

www.nylonmag.com

Although frequently rumored to be a lesbian, Jett refuses to discuss her sexual orientation. In response to rumors
that she was an open lesbian, she told the Palm Springs Desert Sun, "I never made any kind of statement about my
personal life on any level. I never made any proclamations. So I don't know where people are getting that from."

Her orientation is her business but I was reminded of a line from 'The Group' a novel by Mary McCarthy, a kind of 1930's Sex In The
City, a lesbian character says " I love American Women, they – are a third sex". Which I only know as Julie Burchill used it with
reference to Chrissie Hynde in the sleeve essay to the Pretenders Greatest Hits, adding 'vain, reckless, talented and loveable'. A
more appropriate descripion of Joan Jett you couldn't find.

Sometimes when I think of Joan Jett a song by the Angry Samoans comes into my mind;
the Get Off the Air rant about Rodney Bingeheimer – LA's favorite punk rock jock, who
influenced Jetts taste for Glam Rock.


Get off the air! Get off the air!
You pathetic male groupie, you don't impress me
Get off the air! You fucking square
You're just a jerk as far as I can see
8 PM, and Rodney's on the air
He's beating off in Joan Jett's hair…


It makes me laugh every time but, by association brings Jetts name into disrepute as far
as 'punk' was concerned – associating her with the Glitter Rock/Bowies cock side of new
wave rock and not the Samoans inspirational guttersnipe garage punk.

The recently released Black Hearts Greatest Hits album is a excellent place to start if you
are a newcomer to the world of JJ's music– thanks prehaps to the movie – its what it says
on the can, as is the superb, indespensible Runaways Mercury Anthology. The albums I
would personally recommend though without reservation are;

the Runaways
Waiting for the Night
(in particular the four best songs School Days, Wasted,
Little Sister and You're Too Possessive)


Live In Japan
for pure cheesy Glam Rock fun.

The BlackHearts
I Love Rock'n'Roll
and
Bad Reputation
for camp, heads-down, boogie-
woogie rock'n'roll. (You can skip most of the rest until .. 1993's.


Pure and Simple
( where L7, Babes In Toyland join her and Bikini Kills Kathleen Hanna
co-writes some songs)

The
Evil Stig
album ( with the Gits) righteously punk rock.


Sinner
(and the Japanese only
Naked
- basically the same album) which are career-defining
best. Some ballads yes but great songs, like Fetish and yet more covers; the Replacements
Androgonous and the Sweets AC/DC.

Best of all though is a 2001 Double album called
Live!
Which may not of course be legit but
captures the band and Joan in full flight – the more pedestrian songs and covers become
majestic roaring beasts when played live…


More from the Official biog …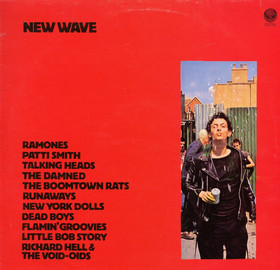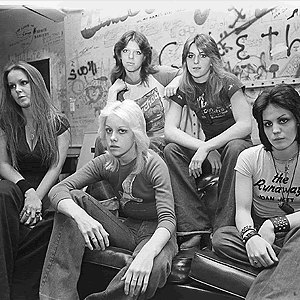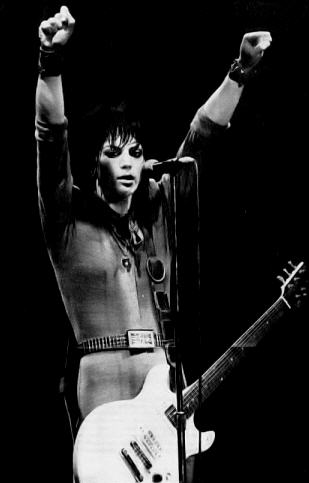 Joan Jett is a Legend. Joan Jett Rocks. Joan Jett is Rock'n'Roll. Joan Jett is the
Coolest, Sexiest Woman in Rock'n'Roll; always has been, always will be. But what
the official biog doesn't say is that Joan Jett is also derided, overlooked and under-
appreciated in a way that male counterparts Iggy Pop, the Ramones and Lou Reed
are not. Whether its because she's a female or not is debateable. Maybe she just
too honest, lacking in bullshit and the simple rock'n'roll she plays; without any
pretence to art, progression and meaningfulness is to blame. Her involvement in
punk is unusual – she pre-dated it yet was a part of it, survived the backlash and
emerged stronger, but still retains a punk independence and atitude with her own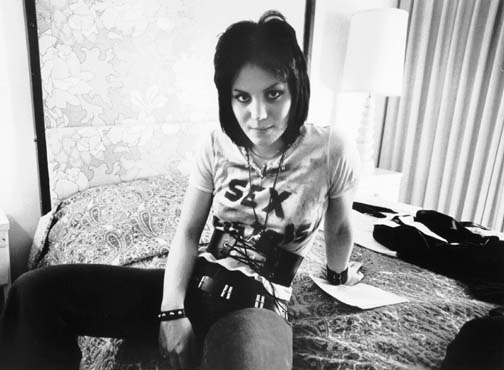 Personally I'd have liked to see the times re-enacted when Sandy West, the Runaways drummer punched out both "the drummer
from 999" and Rat Scabies, who she is quoted in We Got the Neutron Bomb as having; "Smacked him one upside the head. Hard.
Cold-cocked him. Calmed that mother-fuckers ass right down." Poor old Rat!

The movie features an on-screen kiss between the Jett and Currie characters of which Cherrie said in the Examiner, "We loved each
other as friends. Back then, Bowie had just come out. So had Elton John. And that was the groovy thing to do. Back then, there was
this bisexuality thing that was going down and, hey, why not?"

Jett refuses to be drawn on her sexuality. This, from
www.nndb.com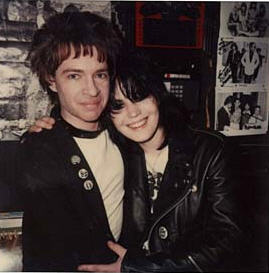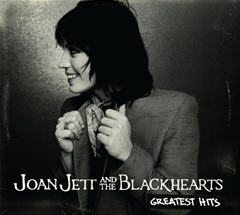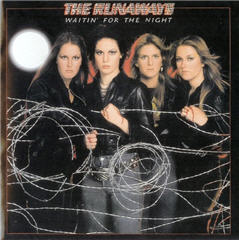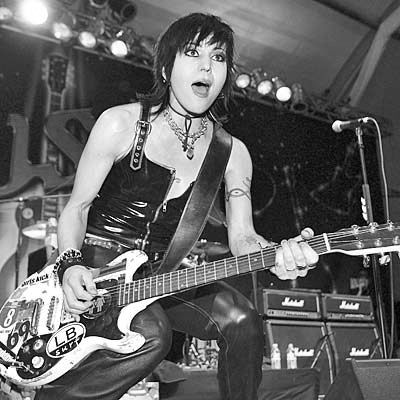 Joan Jett – Official Biography
...


Joan Jett is an originator, an innovator, and a visionary. As the leader of the hard-
rocking Blackhearts, she's had eight platinum and gold albums and nine Top 40 singles.
She sits at the head of her own independent label, Blackheart Records. Jett has acted in
movies, including 1987's Light Of Day, Broadway musical, The Rocky Horror Show.
As a producer, she has overseen albums by Bikini Kill, Circus Lupus, the Vacancies,
and the Germs' LA punk masterpiece, GI. Jett was even one of only two women
named to Rolling Stone magazine's list of the 100 greatest guitar players of all time.
In the end, though, Joan Jett's life has been dedicated to one goal and one goal only –
rocking the hell out of every listener she can reach. "I remember times when I was at
shows and the person onstage locked eyes with me," she recently told Esquire
magazine. "And in that moment, everything was right with the world. I think that's part
of my job, to create these thousands of moments every night."

How true-to-life is the movie?
I think it gives you a sense of what we went through, the struggle we
went through. Of course, there were a few things that were
embellished here and there. I didn't wear leather all the time—I wore
leather jackets, but I didn't wear leather pants. Another one: The
soundcheck thing [in the movie] where the guy band wouldn't let us
soundcheck with them, and we got in a fight with them, pretty much
happened like that, but then I didn't go backstage and pee on his guitar.

Was there anything that you thought should have been in the movie?
We got arrested in England once, that would have been a great scene. There was a riot in Scotland, that would have been a
great scene. Everyday was a movie with the Runaways.

Jett's version of "Love is All Around," the theme from the Mary Tyler Moore Show, became a popular anthem for women's sports.
Her songs have been featured in many films, including Shrek, Charlie's Angels, and Monster.

Joan Jett has spent her lifetime breaking barriers and challenging expectations. She's fought hard for all of her historic accomplishments,
yet she remains humble and appreciative.

"I've had a blessed career," she says. "I consider myself so lucky to have been able to do things my own way.