By the summer of '77 the
'folk devil

that was punk had been neutered
and mass produced to such an
extent that it couldn't possibly pose a
threat.
"Speaking as one of the great
trendsetters of the movement
(laughs) the minute that anybody
turned up looking a bit like you then
you changed. But in the end there
were loads of people walking around
with anarchist signs and hair spiked
out dyed green, and wearing leather
jackets, doc martens and jeans; iust
like Sid."

(Adapting a sociological head) If
punk was iust another teenage
subculture then we should expect the
Class of '76 to have outgrown it
within a couple of years and gone on
to find a 'stable' niche in society. In
fhis case the chaotic spirit of punk
has been re-channelled into the
heart of the Pogues. And, just as the
new-wave punks couldn't begin to
understand the style of the originals,
so it is in '86 with The Pogues a
cosmos apart from The Boothill
Foot-tappers, Boys They Couldn't Be
Bothered To Hang, et all.


OSCAR WILDE PUT IT BEST:











JANUARY 1986 ZIG ZAG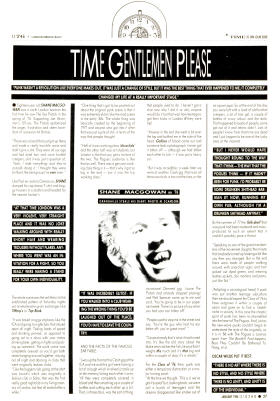 Eighteen year old
SHANE
MACGOWAN
was a north London
barman the first time he saw The Sex
Pistols in the spring of '76.
Supporting Joe Strummer's 101-ers,
The Pistols epitomized the anger,
frustration and sheer boredom of
recession-hit Britain.

"There was a band that just got up
there and made a really horrible
noise and didn't give a shit. They
were all our age and had dyed hair
and wore brothel creepers, and it
was just a question of, 'Yeah, I hate
everything and they're actually doing
it.' I thought they were brilliant; the
best group I've ever seen."

Like Paul en route to Damascus,

SHANE
dumped his cap sleeve
T-shirt and baggy trousers in a
dustbin and headed for the nearest
barber's.

"One thing that's got to be pointed
out about the original punk scene is
that it was extremely elitist; like the
mod scene in the early '60s. The
whole thing was basically created by
the beginning of 1977 and anyone
who got into it after that was just a
pile of shit, in terms of the way that
people thought.

"Half of it was working class 'disco
kids' and the other half was art
students, but London is like that you,
get a mixture of the two; The
Pogues' audience is like that as well.
There was a genuine working class
thing in it-that's why it got so big in
the end - but it was the hip working
class."

that people used to do. I haven't got
a clue now why I did it or why anyone
would do it but that was how
teenagers got their kicks in London
if

they were hip!

"Anyway in the end she went a bit
over the top and bottled me in the
side of the head.
Gallons
of blood
came out and someone took a
photograph. I never got it bitten off -
although we had bitten each other to
bits - it was iust a heavy cut.
"But it was incredible: a week later we
were at another Clash gig (that was
all there was to do in town at the
time, or the occasional Damned gig,
'cause The Pistols had already

an opium pipe. So at the end of the
day you were left with a load of old
brothel creepers, a lot of hair gel, a
couple of bottles of crazy colour and
the dole. That happened to loads of
people, some got out of it and others
didn't. Lots of people I know from
that time are dead and I iust happen
to be one of the lucky ones at the
moment.

The whole scene was the antithesis
to the established pattern of
Saturday nights out at wholesome
groin exchanges like
Tiffany's
or

Top Rank
.


"It was based on gigs at places like
the ICA and going to nightclubs that
stayed open all night. Taking loads of
speed and drinking pernod, as
opposed to going out to a disco with
your mates drinking beer, getting in
fights and picking up some bird. The
punk scene was completely asexual
so you'd get both sexes hanging
around together, staying out all night
and dancing in clubs that were
originally lesbian clubs.
"Like the biggest club going at the
start was Louise's which was
originally a lesbian club in Saho; that
was the first really good nightclub in
my living memory of London, but that
all ended after a while."

SHANE MACGOWAN ON '76

GRANUAILLE STEALS HIS DIARY. PHOTO M. SCANLON

After the recent
HIGHLY RATED
reformed

NIPPLE ERECTORS
gig at Londons 100
Club I thought it would be interesting to
revisit
Shane MacGowans
January 1986
viewpoint on
PUNK
and how it saved his life.

Reprinted from
ZIG ZAG
magazine January 1986.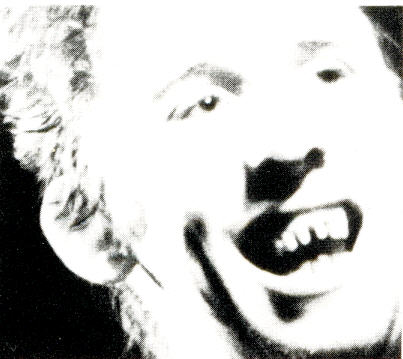 AND THE FACTS OF THE FAMOUS
EAR FABLE:



"I was up the front at this Clash gig at
the ICA and me and this girl were
having a bit of a laugh which involved
(cracks up at the memory) biting
each other's arms 'till they were
completely covered in blood and then
smashing up a couple of bottles and
cutting each other up a bit. That, in
those days, was the sort of thing

stopped playing) and Neil Spencer
came up to me and said, 'You're
going to be in our paper next week.
There's a picture of you when you
had your ear bitten off'.

"People used to stop me in the street
and say, 'You're the guy who had his
ear bitten off; you're great man!' "

"Cause already fhat's what it had
turned into. It's like fhe old story
about the bloke who catches the fish,
he says that it weighs
this
much and
it's
that
big and within a couple of
days it's a whale."
For the
Class of '76
, then, punk was
either a temporary distraction or a
major turning point:
"At the time we thought, 'This is it,
we've got it sussed' but, looking
back, we were just a bunch of
teenagers and the dreams
disappeared like smoke out of




"
"AT TIME LONDON WAS A VERY
VIOLENT, VERY STRAIGHT PLACE
AND IT WAS NO JOKE WALKING
AROUND WITH REALLY SHORT
HAIR AND WEARING TROUSERS
WITHOUT FLARES. ANYWHERE
YOU WENT WAS AN INVITATION
FOR A FIGHT, SO YOU REALLY
WERE MAKING A STAND FOR
YOUR OWN INDIVIDUALITY."

"IT WAS INCREDIBLY ELITIST: IF
YOU WALKED INTO A CLUB
WEARING THE WRONG THING
YOU'D BE LAUGHED OUT THE
PLACE; YOU'D HAVE TO LEAVE
THE COUNTRY!"

"BUT I NEVER WOULD HAVE
THOUGHT TOUND TO THE WAY
THAT I THINK - THE WAY THAT THE
POGUES THINK - IF IT HADN'T
BEEN FOR PUNK. I'D PROBABLY
BE SOME DRUNKEN SHITHEAD
BARMAN BY NOW, RUNNING MY
OWN PUB; ALTHOUGH I'M A
DRUNKEN SHITHEAD ANYWAY."

"THERE IS NO ART WHERE
THERE IS NO STYLE, AND NO
STYLE WHERE THERE IS NO
UNITY, AND UNITY IS OF THE
INDIVIDUAL."