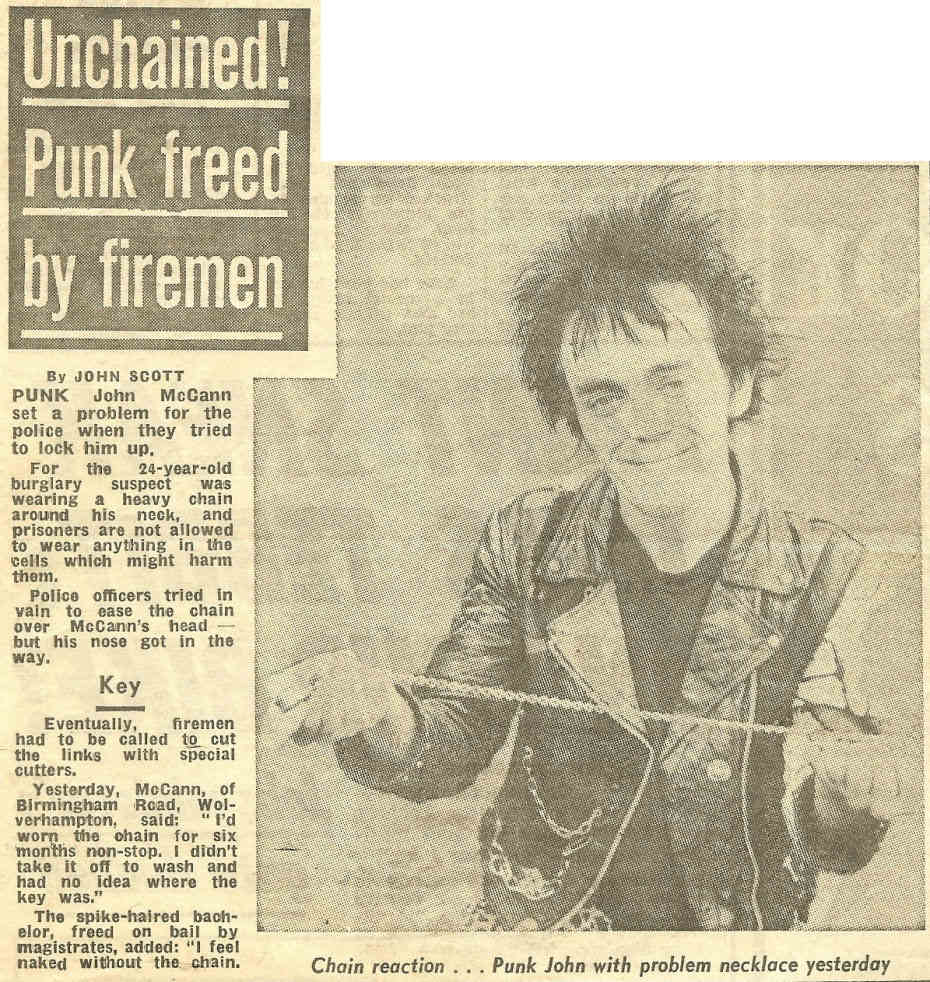 John McCann or 'Paddy The Punk' as he was affectionately called round these parts hit
Wolverhampton by chance during the early 80's punk boom. I recall this Irish kid with an
unforgettable face hanging round the Plough & Harrow pub in a duffle coat.
A sort of transient character that had a crazy coloured streak in his hair.

The Punks used to tour round the bars in those days and he would often play one of us at pool which he was
very very good at and won a few pints and trophys if i recall. We eventually got to know him more and he would
join us on tours round the Wolverhampton dives as we got attacked, barred or both on occasion. He was always
up for the craic and I remember he was an ardent
Boomtown Rats
fan which we unmercilessly took the piss
out of him for. But we took the piss out most people anyway and Paddy was equally good at taking it back in his
own dry way. A likeable inoffensive chap once you got to know him. We must've had an influence on him coz
before you know it he's getting wilder in his appearance and was often prone to police harrassment. We always
liked his humour though, and he could knock out a great version of 'Last of the summer wine' on his mouth
organ as well as some rebel tunes given encouragement from the local Paddy's. The one day I remember him
showing me what he daubed on the back of his flasher mac....
which always
put a smile on me face. The chain incident was BIG news round our punk scene and all the major news papers
done a story about it including this piece which appeared in the Sun and bought back loads of memories of
Paddy and his adventures with law 'n' disorder. He was however very unlucky and used to cop for a load of
aggro due to his punk appearance. He eventually had to leave Wolverhampton because he made the
unfortunate choice of going out with one of towns pseudo gangsters daughters. This geezer was so miffed his
daughter had chosen some scruffy punk rather than some hoodlum with a wedgecut and stanley blade in his
back pocket, that he paid a local bully to hit Paddy over the head with a stool. This incident along with another
more vicious attack by Wolves young hooligan mob called the Subway Army which involved an axe made
Paddy's presence in Wolverhampton decidedly uncomfortable. So he for his own well being relocated to sunny
Birmingham. We didn't see much of him after that. I used to see him occasionally while over Brum when he was
busking and selling Big Issue. I stayed a few times at his bedsit in Digbeth on my infrequent visits to the punks
picnics. His bedsit was covered with PUNK cuttings from his time in police custody amongst other hilarious
adventures. He always made you welcome with a big tin of stew and he had a 3 legged dog called Tripod
(snigger) and a Budgie with the broadest Dublin accent you could ever imagine. He'd trained the thing to swear
proficiently.... you had to hear it to believe it. Ain't seen him for about 5 years now so hope he's still alive
wherever he is? If so cheers for all the fun Paddy coz once met never forgotten.
Cheers also to
Pam
for delving into her punk files and dragging this momento out for us.

- PETER DON'T CARE