IS SHE REALLY GOING OUT WITH HIM?

On October 25th 1976
The Damned
had only made their live debut 5 months previous,
but were now ready to unleash this blistering 45 onto a world which would become
punks first 45. It set the precedent for the
Sex Pistols
and
the Clash
who were
dominating the London punk scene, but were without a release themselves. And it
scared the shit out of anyone else making a new noise.

It was recorded at Pathway Studios on 20th September 1976. The day before their appearance
at the legendary 100 Club punk festival. it was all laid down In a remarkable 5 hours on an eight
track set up for a budget of less than £50. With fellow Stiff artist Nick Lowe producing.
The
Damned
original 'New Rose' is flipped with a frantic cover of the Beatles song 'Help'.

"Is she really going out with him?
" asks Dave 'Tombstone eyes' Vanian introduces the most
famous spoken word 45 in punk is unleashed. 'New Rose'
the Damned's
first single comes with
that discordant guitar riff and those addictive surges and falls as it gets committed to vinyl.





Brian James
recalls:
"I wrote that in a quarter of an hour when I was living in Kilburn. The lyrics
just seemed to come out perfect. They came together with the riffs. The words have no
particular relevance at all. It was a love song to do with something or other but what it is I don't
know.
"When 'New Rose' came out, it was the happiest day of our life. It was lovely. If only 10 kids in
the whole world had that record, then that's beauty beyond words. I'm not ashamed of that
song, that's for sure. Never will be.
On first hearing the recordings
Captain Sensible
had this to say: "I was astonished. I thought it
was so good."

Dave Vanian
recalls: "It was great. As soon as you hear those drums, it's magic. It had the
flavour of the '60's stuff I'd listened to, with Brian's distinctive sound. I thought of him in a weird
way a jazz musician - he wouldn't spend hours over things, he'd play and that was it. Captured."

Rat Scabies
recalls: "I always remember Nick smoking Senior Service and drinking cider. He
had a big yellow streak where he used to sit listening and his cigarette smoke was going in his
hair. I didn't really know what a producer did. I don't know if he did either. But it certainly
seemed to work."

Brian James:
"Nick in the studio was really fast. We'd meet in the pub, drink to closing time in
lunchtimes, get a few takeaways and just slam through the set. Dave would do the vocals on
top, then there would be a couple of overdubs and then mixing. It was right for us. The energy
comes right across."

Damned if you don't...

Peter Don't Care
(October 2016)

THIS SITE IS DEDICATED TO...

'YOUNG HOT LOUD AND STIFF'

Last update: November
14
th 2016


This Months Punk In Print

BOOKS

PUNKS DEAD JUNE 2012
SEARCH AND DESTROY 1-6
COMMANDO JOHNNY RAMONE 2012
VIOLENCE GIRL ALICE BAG 2011
TOUCH AND GO FANZINE BIBIOGRAPHY
CBGB'S OMFUG
BLIGHT AT THE END OF THE FUNNEL
FROM THE VELVETS TO THE VOIDOIDS
THE DAY THE COUNTRY DIED 2006
THE ENCYCLOPAEDIA OF PUNK 2008

MAGAZINES/ZINES

VIVE LE ROCK 2016
RIOT 77 #18 2016
BALD CACTUS 31 2015
FEAR AND LOATHING #72 August 2015
UNCUT Sex Pistols July 2015

THIS MONTHS PLAYLIST

THE DAMNED -
'New Rose' 45

THE DAMNED
- 'DAMNED DAMNED DAMNED' LP

THE DAMNED -
'MUSIC FOR PLEASURE' LP

THE DAMNED -
'MACHINE GUN ETIQUETTE' LP

THE DAMNED -
'SICK OF BEING SICK' 12"

THE DAMNED -
'PEEL SESSIONS AND DEMOS' CD


This Months Website

Is
The Damned
official one which features
everything you need to know about the band who
are currently on tour around the UK. For a great
history of their gigs as far back as '76 go to the
neat neat neat
White rabbits
.

THIS MONTHS YOUTUBE

Fantastic video for
The Damned's
first single on Stiff
Records which was filmed in the basement of the Hope
& Anchor pub in Islington, London, on 7th December
1976 down the road from Pathway studios where the
song was actually recorded.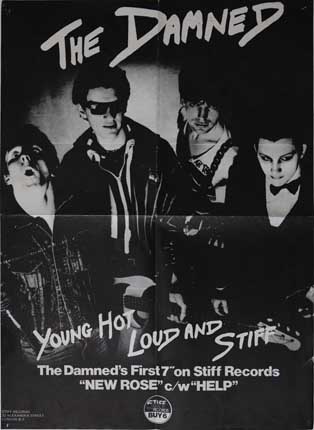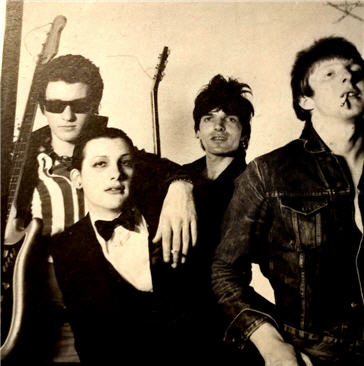 As Stiff records were a new tiny independent label so
resources were tight. And tape was an expensive tool
that could be reused if needed.
The Takeaways who shared it were basically an
excuse for a bunch of musicians hanging around the
studio to pretend they were Bruce Springsteen. The
actual tape was previously used by a certain

D. P. Costello
.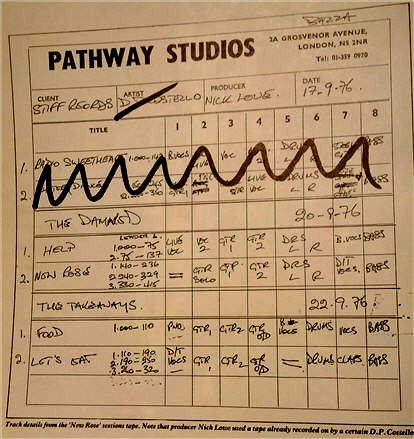 SINGLE OF THE WEEK
MELODY MAKER October 30th 1976.
THE DAMNED: 'New Rose'/'Help' (Stiff)
The product of four hours intensive care, this so
hot it's a wonder the vinyl doesn't melt. A great riff
that lodges in your brain and enough energy to
substitute for Battersea power station. Just the
thing if your copy of 'Raw Power' has worn nout.
'Help' is an amusing murder, with the best out of
tune Beatle-chord end. It may not change your
life, but it may change your point of view.